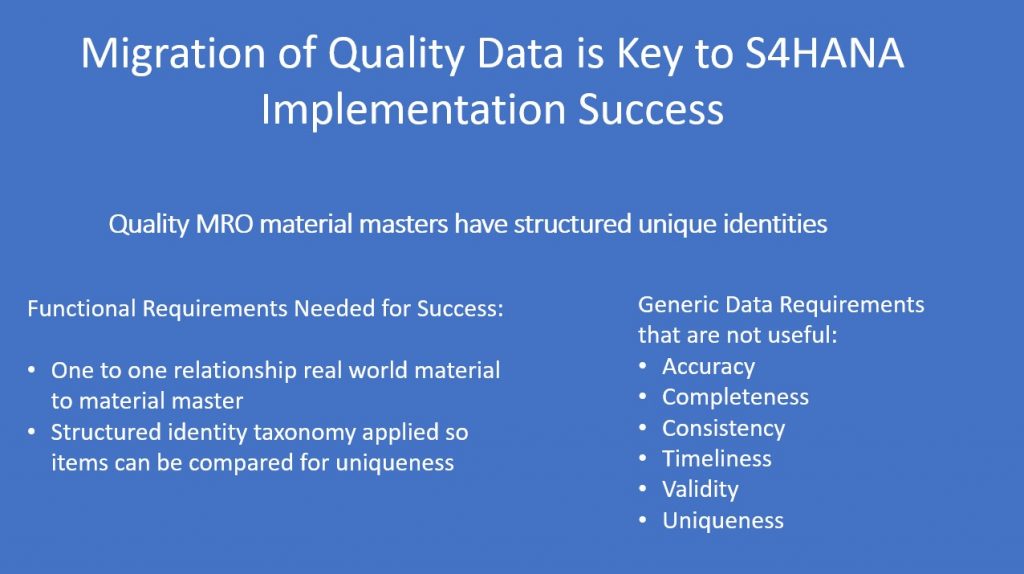 The reality is that what quality master data is, must be defined for each master data object. The requirements for quality functional location and equipment master data are different from a quality set of general ledger accounts, and from my speciality MRO material master catalogue items. When looked at through the in vogue "data" lens, we hear that for data to be quality it needs to be Accurate, Complete, Consistent, Timely as well as other things. None of these speak of what is needed for your data to deliver value in your new business system, much less on what you need to do to make your currently deficient data more productive.
For MRO material masters, my company SPC Results can deliver a slimed down MRO material master catalogue that will substantially improve business process performance in all you MRO related business processes, and because of the method used, it will stay slim. The secret sauce is that you need one material master for each maintenance, repair, and operations real world material in current service. The material master must uniquely identify the material it represents. To keep tight one to one real world to system material relationship, you need a structured identity taxonomy that makes items comparable.
Spending money on generic data quality dimensions will not cut it. MRO material masters serve Supply Chain, Maintenance and Reliability functions. Quality MRO materials need to serve functional requirements.
Tell me about your MRO material master challenges.