SPC Results Inc. enables MRO (Maintenance, Repair & Operations) material master identities to be structured, unique, and comparable. Comparable MRO material identities are the key to having a single material master represent each real-world item needed in operations. This prevents the waste caused by indeterminate MRO items harming business success.
Here are 6 material descriptions, all representing the same real-world item. As would be typical, they were created independently without a structured cohesive taxonomy. Comparison to see if they are the same part is not feasible. Each would be accepted as it was not a provable duplicate. This is how MRO catalogues grow so large and frustrating for users. It is also a root cause of wastefulness in every business process using MRO materials.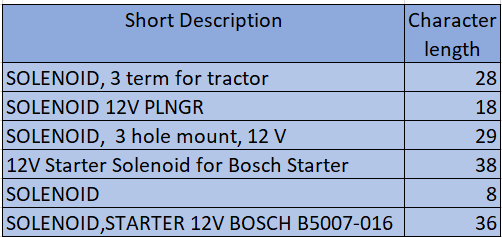 The magic in SPC Results Structured Material Identity (SMI) taxonomy is that all items are identified using cohesive structured templates. In this example, the top description comes from the Solenoid SMI template. All solenoid material master requests are coded with the same template, so the items are comparable, and the growth of problematic clutter is stopped, existing clutter can be removed. The template includes not only the characteristics that build the description, but also the key specifications and manufacturer's part number that together define the item's uniqueness. The SMI taxonomy enables real MRO catalogue integration in merger projects and keeps the catalogue tight.
What happens when many material masters represent the same thing in your ERP/ CMMS?
Job planning slows (more checking required when planning)
Delays and mistakes in maintenance work due to wrong items being provisioned
Confusion that directly increases "free text" requisitions
Wasteful duplication of warehouse stocks
Confusion for Buyers and Sourcing Agents on material requirements
Impeded attempts to improve master data with maintenance BoMs, interactive parts catalogues (IPCs), and other improvement initiatives
SMI taxonomy is different and better than other MRO material identity solutions.
SPC Results can be your guide to MRO material catalogue transformation.